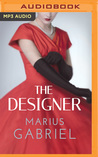 The Designer by Marius Gabriel
My rating: 4 of 5 stars
"The Designer" is a complex narrative–it's not quite about Christian Dior, nor is it quite about post-occupation Paris. It isn't quite a romance, nor is it quite a war story. Rather, it is all of these things, as seen through the eyes of the protagonist, Copper Reilly.
Copper is–like any aspiring journalist–an excellent observer, and through her we come to understand how uniquely important haute couture was to France as it struggled to pull itself back together during the final years of the war (and after). And Copper herself has plenty going on–freshly divorced, stranded in Paris, trying to find a balance between freedom and security.
Based on the title and description, I'd been expecting (hoping for?) much more detail about the inner workings of an atelier, some true behind-the-scenes details on the French fashion industry of the time. The focus, however, is much more on Copper's personal life. This isn't a bad thing–Copper is vivacious and sympathetic–but while there's plenty of haute couture, that's definitely not the emphasis.
My only real complaint is Copper's love interest, who (without getting into spoilers) is a pretty thinly drawn character. Exactly WHAT Copper likes about them is unclear, and the ultimate impression is of a character that's "fine" but not terribly compelling.
Overall, though, I loved this story. It's well written, funny in all the right places, and if you have any interest in couture, I'd strongly recommend it.